We, Cerebra Nootropics, offer a wide range of payment methods to make your payment experience as easy as possible.
With iDEAL you can pay with a Dutch bank account in a trusted, safe and easy way via internet banking from your own bank. If you prefer to use this option please choose iDEAL when checking out. In the next screen you can choose your bank and you'll be sent to your bank's online payment platform to pay your order. You can find more information about iDEAL on their website.
You can pay in a safe and easy way with Bancontact if you have a Belgian bank account. Choose for Bancontact when checking out and follow the instructions. You can find more information about Bancontact on their website.
If you want to remain anonymous while purchasing products, then bitcoin payment is the way for you. Bitcoin is a safe, secure and fast way to pay your order. Choose Bitcoin when checking out and you will see the Bitcoin address in the next screen.
Are you new to Bitcoin? Check their website for more information.
Example bitcoin payment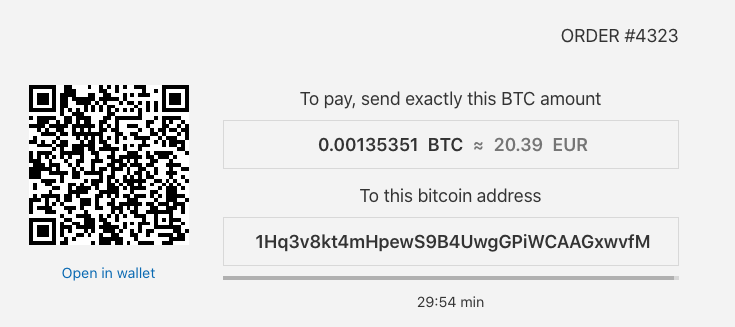 Pay now (Klarna) – Debit and credit card payment
Link your bank account to Klarna. Select Klarna when checking out and finish your order. Klarna will collect the payment from your bank account. Klarna buyer protection is applicable on your order. If you have questions about paying with Klarna, please check their website.
If you have other questions about the payment of your order, please contact us.
We ship your order after receiving your payment.